How Google Call Tracking Beta Works
How To: Turn on Google Call Tracking Beta
Navigate to the Google My Business Account about the 3rd widget down on the left should be the Preview call history widget: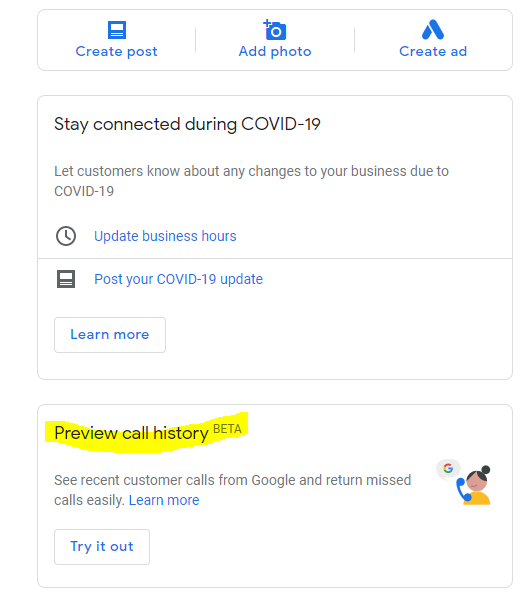 Click to try it out...
Note that this will ONLY apply to the "Click to Call" button within the GMB listing...
Google More Information Notes
Call history in Google My Business
You can keep track of phone calls from your customers on Google Search and Maps with call history. To help you respond to missed calls and stay engaged with your customers, call history keeps your calls all in one place. These calls may make it easier for you to connect with customers who found your business through Google. Any calls you get from your Business Profile will start with a short message that lets you know they're from Google.
Eligibility
Call history in Google My Business (GMB) is currently an experimental feature and only available for a select group of businesses in the US only.
How call history works
Important: You can only view your call history through the "Calls" tab on your Google My Business app.
When a customer uses the "Call" button on your Business Profile, their calls show up in the "Calls" tab on your Google My Business app. From this tab you can find recent calls, missed calls, and more.
Once call history is on, customers connect to you through a forwarding number instead of through the number on your profile. At the start of a call, you'll get an automated message that says, "Call from Google."
About Google forwarding number
On your Business Profile, customers can find your business number. When they use the "Call" button on your profile, their call is forwarded to a unique number to reach you. This number is different from the one on your profile.
The Google forwarding number varies based on the location in which it's dialed, which includes its area code or prefix number. When possible, the forwarding number shares the same area code or prefix number as your business. Otherwise, a local number in your geographic region is used. If these numbers aren't available, a toll-free Google forwarding number is used.
Tip: It's rare that the toll-free number is needed.
Additional information
Calls are kept for 45 days in the "Calls" tab.
If you opted in to call history, you can't turn off the automated message you receive when a customer calls you.
You can't track texts in call history. Call history only tracks phone calls. You can text customers with the Messaging feature in the GMB app.