Need To Get a Video To Repeat On TV?
Step 1:
Download your video to the laptop you will hook up to the tv.
Step 2:
Open it in the standard windows Movies & TV app (should open here by default after you download it):

Step 3:
Then click on the 3 dots at the bottom of the video screen:

Step 4:
Click Repeat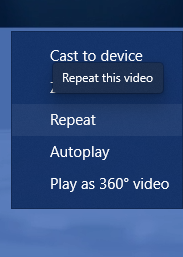 Wa-lah! Repeating video on the laptop.
Step 5:
Now just connect the laptop to the TV with an HDMI cable.