This is a guide to managing your Out-of-Office workflow. You can see how the workflow works, how to update for different service members, and mistakes to avoid.
How the Workflow Works
This workflow is designated to work for anytime members of a service team are out-of-office (OOO). The reason this workflow needs to exist is because tickets will be autogenerated to the rep in most cases.
This workflow, when turned on for a specific rep, will clear the ticket owner and move the deal to the "New-Unassigned" stage.
This will allow the ticket to assigned to a different rep for the time being.
How to Clone + Update the Workflow
The sample workflow should exist in your HubSpot portal already named: "Sample Workflow: OOO Team Member". Hovering over the workflow should give you the option to clone.

Clone the workflow and rename something appropriate like: "OOO Workflow: *Rep Name* 0/00/00 - 0/00/00". Adding the date the rep will be Out of Office is a great idea, as it will let everyone know when this workflow needs to be turned off/deleted.
Turning on the Workflow
When the workflow is cloned and renamed, the first thing you want to do is make sure that the ticket enrollment parameter is correct. This will be "Ticker Owner is any of *Rep Name*".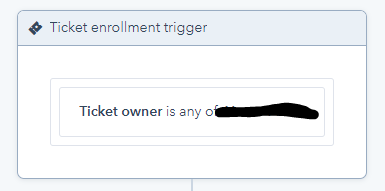 Once this is adjusted, you are good to turn on the workflow. At the top right of your screen, you will see an orange "Review" button.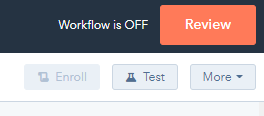 On the next screen, it is CRUCIAL that you select "No, only enroll tickets which meet the trigger criteria after turning on the workflow". Selecting the other option will enroll all tickets ever assigned to the rep, essentially making it so that rep no longer owns ANY tickets.

You are now good to select "Turn on" on the top right corner of your screen.

When the Rep Returns to the Office
When the rep returns to the office, we can now delete the workflow. To delete the workflow, hover over the workflow, select "actions", then select "delete". Follow HubSpot's requirements to confirm the deletion of the workflow.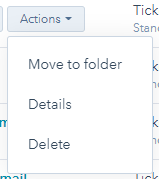 It is important to do this the morning the rep returns, or late the day before the rep returns. This will ensure that tickets will get assigned properly again to the rep.