Installing and Updating RingCentral Embeddable Voice App in HubSpot
HubSpot Marketplace App Installation | Chrome Plugin Installation | Firefox Plugin Installation

In order to have SMS RingCentral activities / events logged as well as SMS workflows in HubSpot, you'll need to:
Install RingCentral integration from HubSpot App marketplace
Make sure your email of RingCentral account is exactly the same as your HubSpot account.
Then check the RingCentral from activities filter.
***If you don't need SMS events or workflows, you can get by simply install the RingCentral browser extension (Chrome or Firefox).


HubSpot Marketplace - RingCentral Integration
RingCentral Integration Overview Video
Installing the HubSpot Marketplace RingCentral Integration
Go to the RingCentral integration page in HubSpot: https://ecosystem.hubspot.com/marketplace/apps/sales/calling/ringcentral-202602

Click "Install app" on the top right of your screen:

You'll be redirected to an overview page of the app, simply click "OK" on the bottom right of the screen:

If you'd like to watch the overview video referenced above, in addition to seeing it on this screen, you'll see it after clicking OK.

Now click "Install" to continue: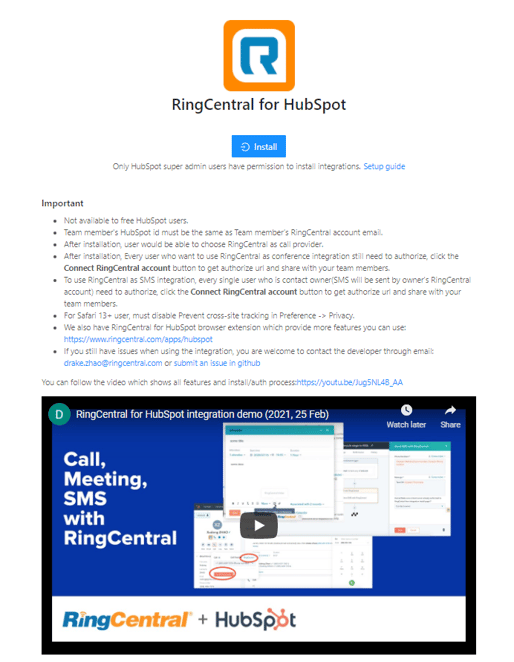 Now select your HubSpot account (which you'll need to be a Super Admin of).

Once you click on your account, you'll be asked to connect the app, and agree that the following information will be shared.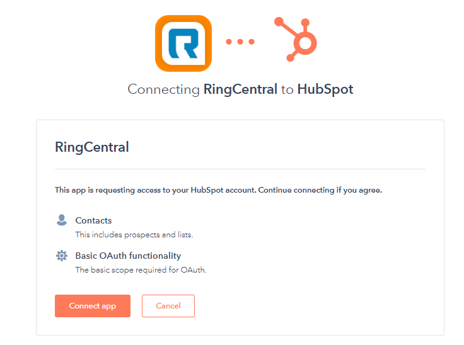 Once you click "Connect app", you'll be redirected to the overview page of the app again, simply click "OK" on the bottom right of the screen:

Then click to "Connect RingCentral Account", since you're not currently logged in to RingCentral within HubSpot, now we need to connect the RingCentral account and log in through that.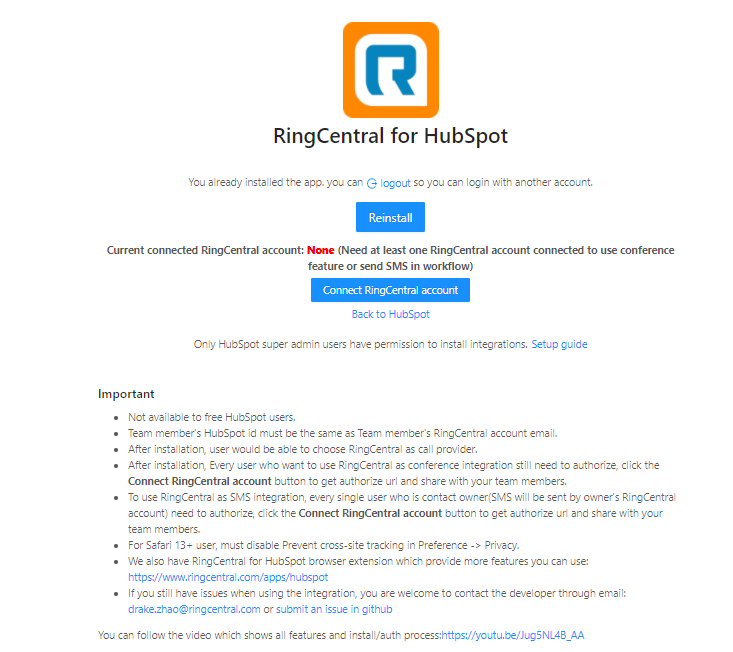 Now you'll continue the authorization by clicking the "Authorize with RingCentral account"


Now you'll be directed to RingCentral and assuming the correct account is logged into and displayed on this next screen, you can click to "Continue as..." Alternatively, you can click to "Use Another Account" to connect a different account.
Upon doing so, you'll be required to Authorize the following Access to this app and RingCentral: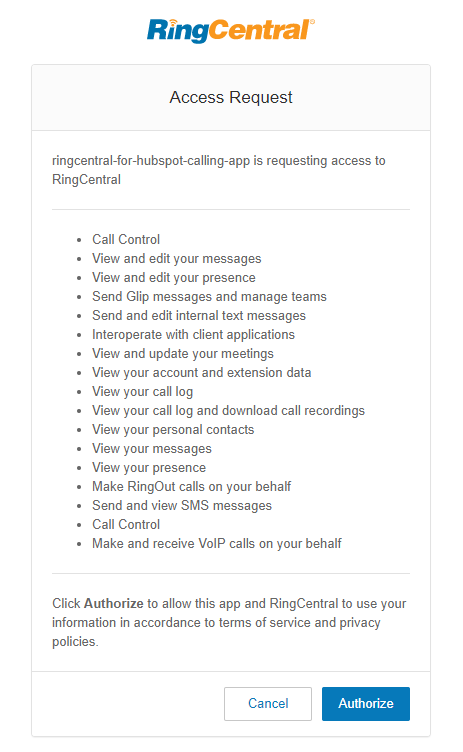 Click "Authorize" and you should be all set.
Installing RingCentral App for HubSpot in Chrome
Download the latest zip file from the release page.

Unzip the zip file. The contents will be unpacked into a dist folder.

Open your Chrome extension page

Turn on "Developer mode" in the upper right hand corner if it is turned off.

Click "Load unpacked."

Select the dist folder, and click "Select."
The extension is now installed.
*Have a popup like the below indicating that you need to update the app? No problem. Simply follow the same steps above.
Download the latest zip file from the release page.

Unzip the zip file. The contents will be unpacked into a dist-firefox folder.

Open your Firefox Debug Console.

Enable "Enable add-on debugging."

From the Firefox Debug Console, click "Load Temporary Add-on."

Navigate to and select dist-firefox/manifest.json.*